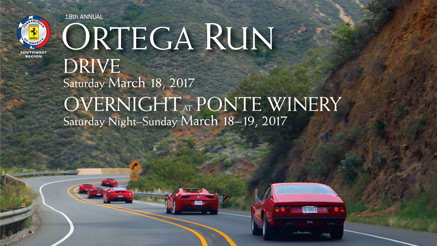 18th Annual Ortega Run Drive
Enjoy our 18th year of Running the Ortega Highway with a new and revised route.

Beautiful vineyard accommodations for luncheon and optional
lodgings. Rooms must be booked by February 18th, 2017.

For the full experience – and to avoid the traffic! – book a room and stay overnight. Call the Ponte Vineyard Inn directly for Saturday night accommodations. You must book your room before Feb. 18th.
Special rates range from $266 to $322 per room, per night, plus tax.
Resort fee and parking charge are complimentary.


Reservation Instructions: Contact the Inn at 951) 587-6688 and
reference the Ferrari Club, or visit www.pontevineyardinn.com,
use the access code "Ferrari" for the discounted room rate.



We invite your early registration to this most popular event.



Ortega Run Drive and Gourmet Italian Lunch

$79. per person. Registration Deadline March 13th.



For more information please contact these co-chairs:

Tom Brockmiller - ferrariracer@cox.net, 949) 584-8061
Jack Curtis - jack_curtis@hotmail.com, 949) 419-5654

Peter Riley - racerriley@gmail.com, 714) 914-5118

www.pontevineyardinn.com
951) 587-6688 for accommodations

Mention "Ferrari" for discounted room rate.
Location

Overnight At Ponte Winery

Date

March 18, 2017

Contact

Additional Information:

Saturday Night­ - Sunday March 18–19, 2017

Register Now

FCA Southwest Region Event