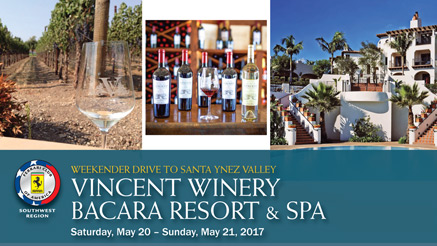 Weekender Drive To Santa Ynez Valley Vincent Winery and Bacara Resort Luncheon
Join us for a weekend drive through the picturesque Santa Ynez Valley
to the upscale Vincent Winery tour and luncheon, with our stay at the luxurious oceanfront Bacara Resort & Spa in Santa Barbara.

On Saturday morning, May 20, 2017, we begin our adventurous trip from Valencia, CA
starting point traveling the backroads to Ojai above Montecito and Santa Barbara, crossing over the Chumash Pass. We will drive along some of California's most scenic, twisty roads– arriving at Tanya & Tony Vincent's comfortable winery around noon. Our especially selected Italian luncheon is catered by one of Santa Ynez Valley's finest chefs.




LUNCH BUFFET MENU


INSALATA ESOTICA

Baby Spinach, Mango, Papaya, Sweet Onions, Tomato, Avocados, Fresh Lemon Dressing


PASTA PENNE PESTO
Penne Pasta with Green Beans, Diced Yukon Gold Potatoes, Fresh Pesto Basil Sauce, Parmesan Cheese


PETTO DI POLLO AL LIMONE ROSMARION
Grilled Chicken Breast with Lemon, Garlic, Rosemary, Brown Buttersauce
Ciabatta Bread


GELATO - THREE FLAVORS As a Demonstration by Alessio – Made on Location
Biscotti Bacio Di Dama, Fiorelli 3 to 4 Wine Tastings




After lunch we will reverse our course, driving past Lake Cachuma to the exclusive oceanfront Bacara Resort & Spa early afternoon for dinner and one night stay. Dining at the
Resort will be at your own discretion and cost with friends of your choosing.

Extended Sunday night stay available at the same reduced rate when booked in advance.



We look forward seeing you and enjoying a great getaway weekend!!


Two-day trip includes Luncheon and Bacara Resort one night Accommodation:
$940.00 per couple.


This special event is limited to 20 rooms (cars).
Location

Bacara Resort & Spa Accommodations

Date

May 20, 2017

Contact

Additional Information:

Saturday, May 20 – Sunday, May 21, 2017

Register Now

FCA Southwest Region Event