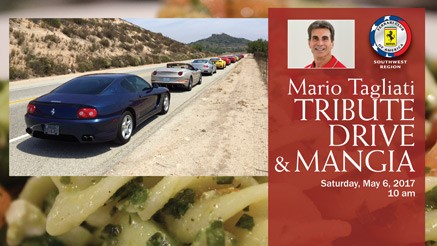 Mario Tagliati Tribute Drive & Mangia
Italian Drive, Cook & Eat

Join us on May 6th for this exclusive event you won't want to miss. Beginning at 10:00 am, we'll enjoy a serene ride from Malibu to Moorpark, CA. Cruise the winding roads of Malibu Canyon with spectacular ocean and mountain views.

Our drive concludes at event-sponsor Café Firenze, serving Ventura County's finest Italian cuisine. A cooking class by Chef John will prepare us for his delicious meal. Lunch followed with a raffle featuring a folding chair (perfect to fit in your Ferrari trunk), picnic baskets, blankets, totes, and more.

Please secure your tickets now. $75.00 per person.

All profits to benefit City of Hope.



For questions or further information,
please contact:
Denise Ferrari
dinoferr5@gmail.com
(818) 317-5355

Register at www.fca-sw.org.
Location

TBA

Date

May 06, 2017

Contact

Additional Information:

Saturday, May 6, 2017 10 am

Register Now

FCA Southwest Region Event