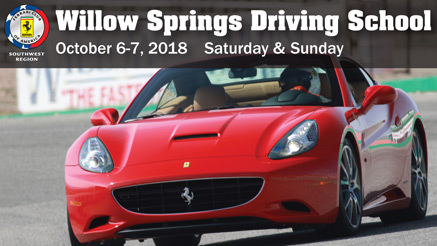 Willow Springs Driving School Open Track Event
October 6-7, 2018, Saturday & Sunday - $260.00 for both days

Join us at the next Open Track Event at Willow Springs International Raceway in Rosamond, CA. This event allows you to run your car at speed on a road-racing course. Cars must pass a technical inspection–download forms and submit to West Coast Racing.

This event is ideal for the beginner (we furnish instructors), and the more experienced driver who wants to improve his or her driving skills.

The atmosphere is relaxed with an emphasis on safety and having a good time. All instruction and safety standards included.

Sign up early as event always sells out!

Contact Marshall Buck Ph.D - mdbuck@ieee.org, 310-836-4390

To download registration/tech/event forms, click on the "www.westcoastracinginc.com" link below.
Location

Willow Springs International Raceway - Rosamond, CA

Date

October 06, 2018

Contact

Additional Information:

Saturday-Sunday, October 6-7, 2018

Enter Now