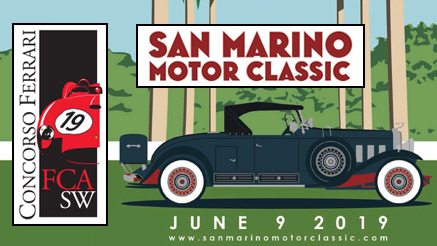 San Marino Classic / Concorso Ferrari
WE ARE HAPPY TO ANNOUNCE OUR 2019 Concorso Ferrari Car Show is partnering with the
San Marino Motor Classic.

The Concorso Ferrari at the San Marino Motor Classic is on the grass at beautiful Lacy Park in
San Marino on Sunday June 9th.

We have 10 classes and judging is per FCA rules. Like previous years on Colorado Blvd, we are inviting 140 cars (70 judged and 70 display). Each class will include up to 7 judged cars so if you want to be judged please signup ASAP.

NOTE: The TOTAL COST to exhibit is $100, which includes admission for two people, breakfast and a nice Goody Bag. The San Marino Show has other options (Evening Gala, VIP Lunch) but those activities are NOT required for our group. There are many food trucks at the show so lunch is available and very reasonably priced!

Please visit the following links for more information and to signup.

NOTE: TO SIGNUP ONLINE, THE FORM REQUIRES A PHOTO. IF YOU DON'T HAVE A PHOTO OF YOUR CAR IT'S OK, JUST ATTACH ANY PHOTO (A PHOTO OF A TREE OR A BANANA OR ANYTHING ELSE WILL WORK!). THE PHOTOS ARE MAINLY FOR OTHER CAR CLASSES (NON-FERRARIS) SIGNING UP AT THE SHOW.

IF YOU MAIL THE APPLICATION, NO PHOTO IS REQUIRED.


Link to print application: (Copy and paste the links in your browser's location / URL bar)

https://static1.squarespace.com/static/5b33a285620b8507509f0c0f/t/5c70964feef1a1a6b0cac09e/1550882412429/Final+SMMC+FCA+Exhibitor+Application.pdf

Link to the San Marino Motor Classic's website:

www.sanmarinomotorclassic.com

You can register online by going to the San Marino Motor Classic's website and clicking on "EVENTS & TICKETS" on top of the page, or by clicking on the "Register Online" link below. When selecting a vehicle class, select Class R for Concorso Ferrari.
Location

Lacy Park, 1485 Virginia Rd., San Marino, CA

Date

June 09, 2019

Contact

Additional Information:

Sunday, June 9, 2019

Register Now

FCA Southwest Region Event