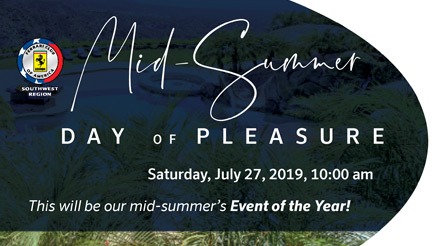 Mid-Summer Day of Pleasure
This will be our mid-summer's Event of the Year!

Norton Simon Private Tour | Verdugo Mountain Drive | Classical Piano Recital

Gourmet Poolside Lunch | City Views

Event cosponsored by Kobeissi Family & Peter G. Kudrave

Begin your morning on Saturday, July 27 in Pasadena's renowned Norton Simon Museum, taking a private group tour of great art including garden sculptures.

With completion of our tour, we leave the museum escorted by police to Pasadena's Arroyo winding oak-lined streets, then over Verdugo Mountains driving through exclusive residences to Mike and Sandy's magnificent home, perched high up in Angeles Forest Mountains.

On arrival, we will examine Mike's collection of Ferraris, Group 4 race cars and Ducatis.

Moving inside the residence, you will be treated to 45 minutes of Akina Motoyama's piano recital, joined by husband David with saxophone on several pieces. It will be an incredible program with classical music by Beethoven, Schumann, Bach and Mozart.

Topping off the afternoon, you will enjoy a fine catered lunch – poolside overlooking city below.

The event capacity will be limited to 40 Ferraris / 80 members – at an amazingly low price of $75 per person.

To respect the museum and host, appropriate apparel is recommended.

Sales of reserved spaces will go quickly – please register at your earliest convenience.

Any questions, call Peter G. Kudrave: 213-955-0005 or pgkudrave@kudravearchitects.com

Online registration will be available soon.
Location

Norton Simon Museum - 411 W. Colorado Blvd. Pasadena, CA (Corner of Colorado Blvd. and Orange Grove Blvd.)

Date

July 27, 2019

Contact

Additional Information:

Saturday, July 27, 2019, 10:00 am

Register Now

FCA Southwest Region Event