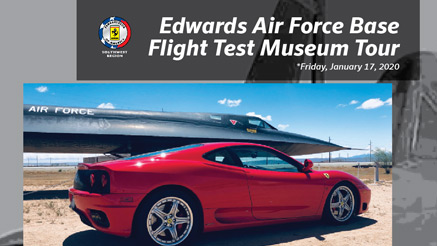 Edwards AFB Flight Test Museum Tour
Tour the Edwards Air Force Base Flight Test Museum inside the base (you will need a base pass).

Tour the legendary Flight Line where Chuck Yaeger broke the sound barrier in 1947 and have lunch at the Officers Club.

Take photos of your Ferrari in front of the SR-71 Blackbird and the other historic planes at the museum!

See many of the Air Force's legendary jets (B-52, F-35, F-18, etc.).

Air Force Flight Test Museum
Our mission is to preserve, display and educate the public to over 75 years of flight test research, both at Edwards and the surrounding area. The inventory of the Air Force Flight Test Museum includes over 80 historic aircraft.

Price: $30 including lunch and base access (must be US Citizen).

Deadline to register is December 20, 2019.

CONTACT TO REGISTER
Jim Bindman - cool4re111@gmail.com

Museum and Flight Line do not operate on weekends, so this event is on a weekday.
Location

Edwards AFB

Date

January 17, 2020

Contact

Additional Information:

Friday, January 17, 2020

Register Now

FCA Southwest Region Event