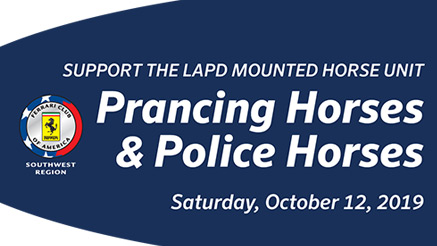 Prancing Horses & Police Horses
SUPPORT THE LAPD MOUNTED HORSE UNIT

Spend the afternoon with LAPD's Mounted Unit at their training paddock in Atwater Village.

This is a unique opportunity to tour their facility, see riding demonstrations, watch police dogs at work, check out the SWAT vehicles and enjoy a BBQ prepared by the LAPD.

Silent auctions for items such as shooting with LAPD at their range and a ride along in the LAPD helicopter!

Proceeds benefit LAPD's Mounted Unit for the LAPD Mounted Unit. The City does not provide funding for the purchase of new horses and they will retiring three this year that need to be replaced.

LAPD MOUNTED UNIT TOUR AND DEMONSTRATION

1:00 - 2:00 pm
Arrival - Park - Walk around facility. See SWAT Trucks and equipment. Meet and greet officers.

2:00 - 3:00 pm
Small group tours of the facility with LAPD Officer Guide. Meet the horses, see the facility.

3:00 - 5:00 pm
LAPD Welcome and introductions, Riding demonstrations, Mounted Unit & SWAT Demonstrations, opportunities for our members to participate (wear the dog attack suit, be part of the disorderly crowd horse demonstration).

5:00 - 7:00 pm
BBQ Dinner prepared by LAPD - Tri-Tip, Chicken, Burgers. Silent Auction ongoing during dinner including:
• Helicopter Ride Along with LAPD
• Shooting Day at the LAPD range
• Riding day in Griffith Park with the Mounted Unit.

This is a Family Friendly event!
Great to bring kids & grand kids. Preferred Ferrari parking area but members are okay to bring other vehicles if they are bringing the family. You won't want to miss this exclusive event!

PRICING
$95 per Adult - $75 donated to LAPD
$49 for Kids 15 & under - $35 donated to LAPD

Sign up deadline is September 21, 2019. Cancellation charge $20 through this date. No refund after September 21, 2019.

This event is limited and will sell out fast! Sign up early!

For more information please contact:
Peter Lund - plund85@gmail.com
Chad Woods - chadwoods@mac.com

The Los Angeles Mounted Police Foundation is a 501(c)(3) organization. The donation portion of the amount paid may be tax deductible. Please consult your tax professional.
Location

Atwater Village, CA

Date

October 12, 2019

Contact

Additional Information:

Saturday, October 12, 2019 - Please note date correction as this event was incorrectly listed as Sunday, October 13, 2019 in the July / August 2019 issue of Sempre Ferrari.

Register Now

FCA Southwest Region Event