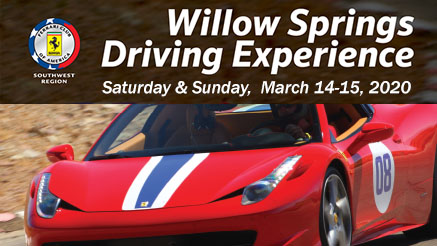 Willow Springs Driving Experience
Ferrari Drivers Invited to Open Track Event

Run your car at speed on a road-racing course at the next Open Track Event at Willow Springs International Raceway in Rosamond, CA. This event is ideal for the beginner (we furnish driving instructors) and the more experienced drivers who want to improve his or her driving skills. The atmosphere is relaxed with an emphasis on safety and having a good time. All instruction and safety standards included. Sign up early as event always sells out!

Car must pass a technical inspection - get form from Marcus.

$260 for Saturday & Sunday.

Marcus A. Mancini, FCA SW Track Chairperson
mamancini@ca.rr.com 818) 419-7577

Register online at: http://www.westcoastracinginc.com.
Location

Willow Springs International Raceway - Rosamond, CA

Date

March 14, 2020

Contact

Additional Information:

Saturday & Sunday, March 14 & 15, 2020

Enter Now