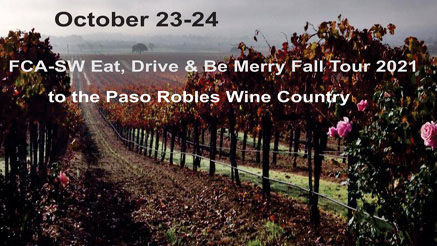 15th Annual Eat, Drive & Be Merry Fall Tour
Join us on the 15th Annual Eat, Drive & Be Merry Fall Tour!

The FCA SW Region invites you to once again experience a weekend in the California Wine Country on October 23 and 24. The drive will depart Saturday morning and return Sunday afternoon with an overnight stay in downtown Paso Robles at the Oaks Hotel. On Saturday night there will be secure parking for our Ferraris and a shuttle bus to transport you to the restaurant. This event will include the room, tax, and resort fees, an afternoon lunch on Saturday and dinner for two Saturday night. The total cost will be $625 per couple and $475 per single. We will be accepting only personal checks to avoid adding credit card fees to the event cost.

The event typically sells out quickly so please sign up early if you would like to attend. There will be a maximum of 16 cars allowed for this tour due to hotel and dining accommodations.

Dinner selections will be Steak, Chicken and Seafood Entrees including wine and dessert. A separate form will be sent prior to the tour date to provide for your individual selections for both lunch and dinner.

For more info contact: Mark Process - dszner35mm@juno.com or (323) 677-8759

Deadline for sign ups will be September 15, 2021, you may cancel at any time before the deadline for a full refund. After September 15 no refunds will be issued.
Location

Paso Robles Wine Country

Date

October 23, 2021

Contact

Additional Information:

Saturday & Sunday, October 23-24, 2021

FCA Southwest Region Event