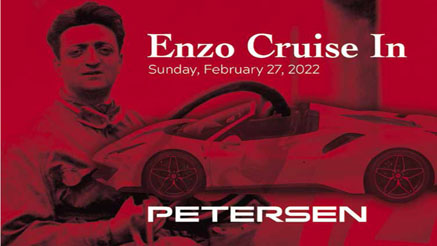 Enzo Cruise-In 2022
Celebrating Ferrari's 75th anniversary at the Petersen Automotive Museum!

One of our most popular events will be even more special in 2022!

Space may be limited, so sign up ASAP!

For more information, please contact Event Coordinator Jim Bindman: cool4re111@gmail.com

All cars must sign up in advance to be admitted.

Online registration will be available shortly.
Location

Petersen Automotive Museum, 6060 Wilshire Blvd, Los Angeles, CA 90036

Date

February 27, 2022

Contact

Additional Information:

Sunday, February 27, 2022

Register Now

FCA Southwest Region Event