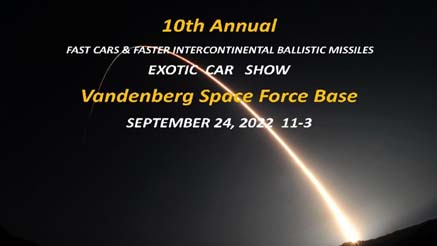 10th Annual Fast Cars & Faster Intercontinental Ballistic Missiles Exotic Car Show
Celebrating the 75th Anniversary of the Air Force, the 75th Anniversary of Ferrari, the 60th Anniversary of the Ferrari Club of America and the 10th Anniversary of this event!

Exotic cars invited, including: Ferrari, McLaren, Aston Martin, Lamborghini, Lotus & Vintage Sports Cars.

Car Show is from 11 am to 3 pm.

SUPPORT THE AIRMEN & THEIR FAMILIES!

We are now accepting signups for our 10th Annual Exotic Car Show on Saturday September 24th.

Tax Deductible Entry Fee of $150 for the M, W & R Fund (Morale, Welfare & Recreation Fund).
100% for the Airmen. Everyone will receive a confirmation letter from the Air Force.

For more info and to reserve your spot, please email FCA -SW Chairman Jim Bindman at: cool4re111@gmail.com.
Location

Vandenberg Space Force Base

Date

September 24, 2022

Contact

Additional Information:

Saturday, September 24, 2022, 11 am to 3 pm

FCA Southwest Region Event