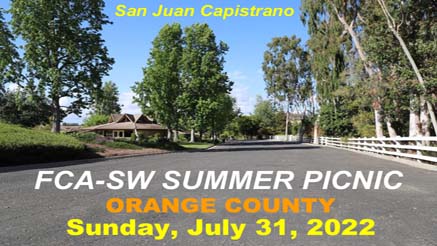 FCA-SW Summer Picnic & Ferrari Swap Meet - Orange County
On Sunday, July 31st the Southwest Region is throwing a BBQ Picnic for our members.

This year the Region's Annual Picnic will be held in south Orange County. We have secured the community clubhouse and grounds with the gracious assistance from club members Edward and Erin Beyer. It's the same location we have used the past two years as a meeting place for our Ortega Highway Event.

In addition to a great BBQ lunch, we will have a mini swap meet for anyone that wants to bring some Ferrari related items to sell or trade!

PLENTY OF FERRARI PARKING!
$20 per person to attend

This location is in historic San Juan Capistrano. ALL FCA members are invited. LA County members might consider driving down Saturday morning and exploring the town and historic Mission. Then spend the night and come to the picnic Sunday. Or stay Sunday night.

For more information or questions please contact club VP Bill Makepeace at billsteves@aol.com.
Location

San Juan Capistrano, CA

Date

July 31, 2022

Contact

Additional Information:

Sunday, July 31, 2022

Register Now

FCA Southwest Region Event