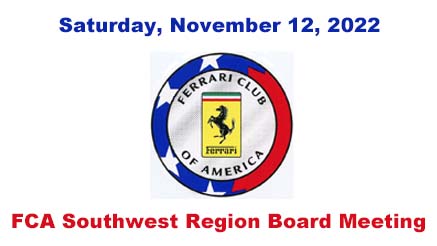 FCA Southwest Region Board Meeting
FCA-SW Board Meetings have resumed and are now once again open to our general membership!

9:00 AM, Saturday. Come join us for coffee and hear about all the upcoming events and get involved. Unfortunately parking validation is no longer provided.

Per Petersen policy, all members must wear a mask when entering the museum and walking to the meeting area. Members may remove masks in the meeting space if fully vaccinated. If they are not vaccinated, a mask must remain on during meetings, and removed only during food and beverage service. The Petersen requires us to acquire proof of vaccination and maintain a list of attendees.
Location

Petersen Automotive Museum, 6060 Wilshire Blvd, Los Angeles, CA 90036

Date

November 12, 2022

Contact

Additional Information:

Second Saturday of each month.

FCA Southwest Region Event