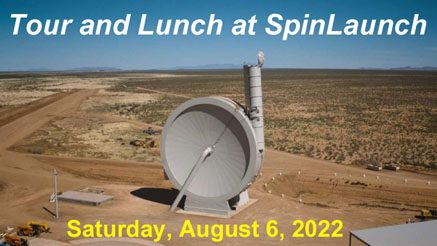 Tour and Lunch at SpinLaunch
Slingshot into outer space....

Our club is invited to an exclusive tour of SpinLaunch in Long Beach.

We will display our Ferraris in the mid morning with coffee & donuts, then after the tour enjoy a catered lunch with the SpinLaunch team.

THE FUTURE OF SPACE IS ELECTRIC!

SpinLaunch is an innovative new space technology company that has created an alternative method for putting 200 kilogram class satellites into low earth orbit.

SpinLaunch was founded by Jonathan Yaney in 2014 to reimagine space launch technology and enable the rapid and cost-effective deployment of small satellite constellations into Low Earth Orbit (LEO). Using its revolutionary kinetic launch system, the company conducted a successful vertical launch at its Spaceport New Mexico Test Site in October 2021.

The SpinLaunch Orbital Launch System is a fundamentally new way to reach space. The velocity boost provided by the accelerator's electric drive results in a 4x reduction in the fuel required to reach orbit, a 10x reduction in cost, and the ability to launch multiple times per day.

Cost to join this event is $35 per person for lunch + $50 per car donation to the Edwards AFB Flight Test Museum Foundation.

The Tour is limited to 75 people.

For more information, contact Event Coordinator Jim Bindman: cool4re111@gmail.com.
Location

SpinLaunch Facility, Long Beach

Date

August 06, 2022

Contact

Additional Information:

Saturday, August 6, 2022

FCA Southwest Region Event