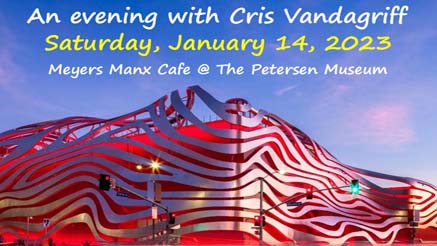 An evening with Cris Vandagriff
2023 GUEST SPEAKER SERIES

Cris Vandagriff will share his 50+ year journey selling Ferraris in the Golden Enzo Era when you could walk into Hollywood Sport Cars and buy a NEW 1964 250 GT Lusso for $13,375 or splurge for a 1964 250 GTO for $18,000 or a few years later drive home in a new 1969 Daytona for $19,695.

Cris' dad Chic Vandagriff raced SCCA in the 1950's and formed Hollywood Sport Cars which became the largest Ferrari dealer in North America during the 60's through the 80's when the most significant Ferraris were sold new! Elvis and Steve McQueen were regular customers back then, and one day the Rolling Stones came in and ordered 2 new cars for each member of the band!

Cris worked at the dealership since he was 8 years old and eventually became President of the dealership from 1981 until 1993, when he formed Ferrari of Beverly Hills for the Ferrari factory.

In 1973 Cris started racing and eventually in 1999 he bought the Historic Motor Sports Association (HMSA) from Steve Earle, the premier historic racing organization which he continues to run to this day. HMSA is one of the most respected historic racing organizations in the world which features world class racing events across the country spotlighting the most historic and valuable sports and racing cars in the world!

$99 Per Person. Limit 90 people.

To reserve a spot please email Event Organizer FCA-SW Chairman Jim Bindman at:
cool4re111@gmail.com.
Location

Meyers Manx Cafe at The Petersen Automotive Museum

Date

January 14, 2023

Contact

Additional Information:

Saturday, January 14, 2023, Social Hour 5 pm, Dinner 6 pm

Register Now

FCA Southwest Region Event