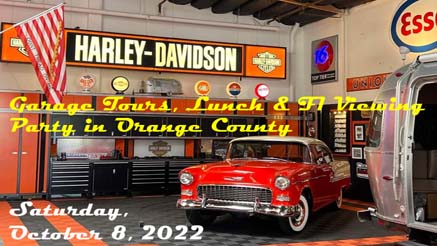 Garage Tours, Lunch & F1 Viewing Party in Orange County
Join FCA Director Doug Campbell and visit two cool garages in Orange County on Saturday morning, October 8th. Michael Sheehan and Robert Von Schoonenberg will welcome you to their facilities. Michael Sheehan, a leading Ferrari historian for over 50 years and auto broker will give you a tour of his facility, then the group will head over to Bob's Man Cave, a 2 story 5,000 square foot space with cars, trucks & neon signs. At Bob's place the group will tour the facility then enjoy lunch while watching qualifying at the Japanese Grand Prix.

This event is limited to 30 people. Cost is $30 per person.
Details and addresses will be provided to those that signup.

For more information, contact Doug Campbell: dougwcampbell1@gmail.com.
Location

Orange County

Date

October 08, 2022

Contact

Additional Information:

Saturday, October 8, 2022

FCA Southwest Region Event