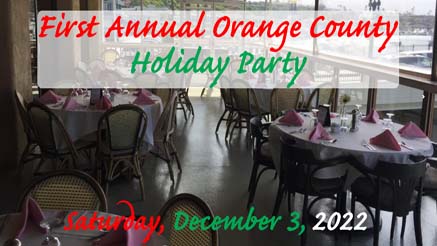 First Annual Orange County Holiday Party
Date: Saturday, December 3rd, 2022
Time: arrival 4:30pm (no host bar) dinner begins 5:30pm
Event maximum limit: 80 people

Price per person: $100 includes dinner plus valet parking*

*There is no self parking at the Newport Beach Yacht Club so Ferraris are not recommended for this event.

First annual OC Christmas Party at the Newport Beach Yacht Club. Our members and their guests will be treated to a delightful holiday waterfront view with exceptional service and food. The waterfront room will seat up to 80 guests (with no host bar).

Members will enjoy a gourmet dinner with choices of beef, chicken, fish plus dessert. Some cool door prizes will be awarded also!

For more information, contact David Pham: dportho@pacbell.net.
Location

Newport Beach Yacht Club

Date

December 03, 2022

Contact

Additional Information:

Saturday, December 3rd, 2022

FCA Southwest Region Event