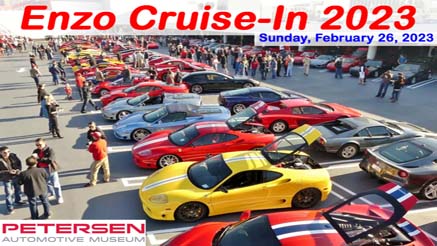 2023 Enzo Cruise-In
SAVE THE DATE! One of our most popular events every year is the Enzo Cruise-In, sponsored by the Petersen Automotive Museum.

EVENT DETAILS & SIGNUPS* WILL BEGIN 90 DAYS BEFORE THE EVENT.

*THERE IS NO CHARGE TO ATTEND, BUT ALL CARS MUST SIGNUP IN ADVANCE TO BE ADMITTED.

For more information, please email event organizer Jim Bindman: cool4re111@gmail.com.
Location

Petersen Automotive Museum, Los Angeles

Date

February 26, 2023

Contact

Additional Information:

Sunday, February 26, 2023

Register Now

FCA Southwest Region Event