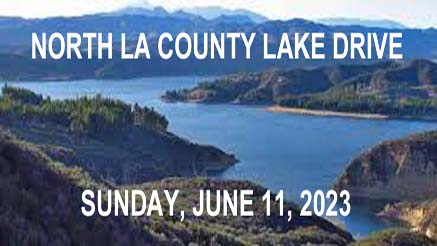 North LA County Lake Drive (CANCELLED)
*** PLEASE NOTE: THIS EVENT HAS BEEN CANCELLED DUE TO ROAD CLOSURES. ***

Join us for the first official drive of the New Year!

We will be taking a new route for this year's drive. The morning starts at 9:30 for complimentary coffee and donuts provided by R2 Racing. From there, join us for a 50-mile scenic drive around the lakes of Northern LA County ending in Canyon Country for an optional "no host" lunch at Route 66 Classic Grill.

The drive is limited to 30 cars. This is a free event but you must sign up to attend. Current FCA members only.

Detailed information will be provided before the drive.

For additional information, please contact Event Organizers:
PETER LUND: plund85@gmail.com or SHAWN DUTTON: shawdut@yahoo.com.
Location

Castaic, CA

Date

June 11, 2023

Contact

Additional Information:

Sunday, June 11, 2023. We will be meeting in Castaic at 9:30 am., and there will be coffee and doughnuts available.

FCA Southwest Region Event