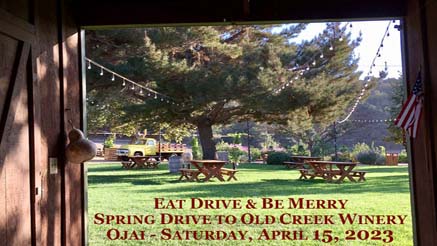 Eat, Drive & Be Merry Spring Drive to Old Creek Winery, Ojai
Time for another Saturday morning drive to Ojai with a visit to a most unique vineyard and winery, The Old Creek Ranch. Originally a part of an 1837 Spanish land grant, Antonio Riva purchased a portion of the hillsides in 1906 to plant vines and build one of the first wineries in Ventura County.

In 1981 the property was acquired by the Whitman family who added outdoor seating areas and opened the winery to the public. Now years later, Old Creek has attained status as one of the premier producers in the Central Coast appellation of the California wine making community and is on par with the regions of Santa Ynez and Paso Robles.

Our visit to the Old Creek Ranch will be an exclusive tasting for FCA members only, situated in the natural pastoral setting of the ranch's picnic area. The presentation will consist of a six pour flight of red and white varietals presented by our own dedicated staff of servers. As the winery does not sell food, you are welcome to bring crackers, cheese or any other casual snack that goes well with fine wines.

There will be an organized drive to Ojai with details to be released to signed up members and an optional lunch venue afterward (TBD).

The cost will be $42.00 per person and will adhere to our standard FCA refund policy for cancellations.

Deadline for sign-ups will be April 7th.

Contact Event Coordinators Mark Process: dszner35mm@juno.com or Tom Manchester: cellofellow312@gmail.com for more info.
Location

Ojai, CA

Date

April 15, 2023

Contact

Additional Information:

Saturday, April 15, 2023

FCA Southwest Region Event