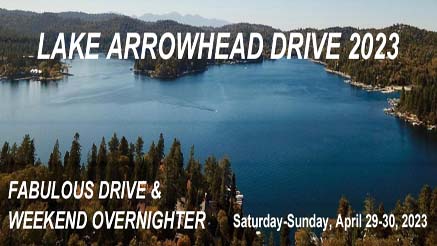 Lake Arrowhead Drive 2023
FABULOUS DRIVE & WEEKEND OVERNIGHTER

Known as the "Alps of Southern California", Lake Arrowhead is a beautiful, cozy and quaint mountain resort paradise.

Join us for a tour with a NEW ROUTE up the back roads to the four diamond rated Lake Arrowhead Resort and Spa with lake view rooms and reserved parking for our cars.

Enjoy fresh mountain air! Saturday Lunch (new restaurant) & dinner plus Sunday breakfast included. A scenic drive back will finish our weekend. Weather is expected to be sunny and in the mid 60's during the day and 50's at night.

$470 for single, $670 for couples. Only 12 rooms available.
$230 per person without overnight stay (limited spots).
Current FCA Membership is required to join the event.

Payment options (credit card & Zelle) will be sent to those that reserve a spot.

Signup ASAP as this event always sells out quickly.

Cancellation Policy: No refunds unless the spot is taken by another member. A $60 bank and admin fee will be assessed if any refunds are provided.

DRIVE SAFELY....Safety on the road is imperative.

Event Coordinators: Haig Barsamian and Doug Campbell

For additional event info and to reserve your spot, please contact Doug Campbell: dougwcampbell1@gmail.com.
Location

Lake Arrowhead, CA

Date

April 29, 2023

Contact

Additional Information:

Saturday, April 29 - Sunday, April 30, 2023

FCA Southwest Region Event