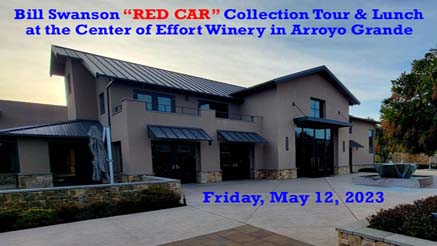 Bill Swanson "RED CAR" Collection Tour & Lunch at the Center of Effort Winery in Arroyo Grande
Bill will give us a personal tour of his incredible Red Car collection at his Center of Effort Winery. Lunch will be created by the Center of Effort Chef and include a tasting of 4 wines. The winery is located in beautiful San Luis Obispo County. Perfect for a weekend getaway.

Event is limited to 60 people.
Price is $65 per person.

For more information, please email Event Coordinator Sam Burg: way2fastt@comcast.net.
Location

Center of Effort Winery, San Luis Obispo County

Date

May 12, 2023

Contact

Additional Information:

Friday, May 12, 2023

Register Now

FCA Southwest Region Event