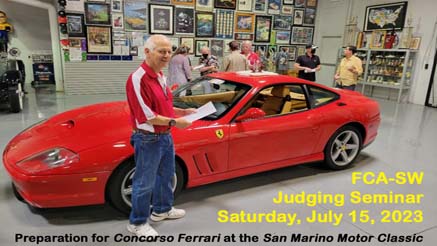 FCA-SW Judging Seminar
In preparation for Concorso Ferrari at the San Marino Motor Classic

JUDGES NEEDED! Haven't judged a Ferrari before? Has it been a while since you last judged? Want to know how your Ferrari would be judged? You are invited to join us on July 15th for a FREE FCA Ferrari Judging seminar. The seminar is hosted by Chief Judge (and FCA-SW board member and Past President) Bruce Leeds.

At the seminar we will:
• Explain the various classes and judging eligibility per FCA rules
• Go over the scoring and awards
• Take a look at the judging sheets and how they are used
• See what happens on the day of the Concorso
• Answer your questions
• Perform a sample judging on a Ferrari

Judging is fun and a great opportunity to make new friends!

All this takes place at San Marino Motor Classic Founder Aaron Weiss' spectacular Flying "A" Garage in Pasadena.

Learn (or refresh your learning) while surrounded by amazing classic automobiles.

The seminar is from 11:00 AM to 1:00 PM. There is no charge to attend.

A no-host lunch is available afterward at a nearby restaurant.

See you there! Please note that you must sign up to attend. Registration Deadline: July 9, 2023.

Judges: If you are interested in judging at Concorso Ferrari and are not going to attend the Judging Seminar, please email Chief Judge Bruce Leeds to reserve your spot: peggynbruce@msn.com.
Location

Flying "A" Garage - Pasadena

Date

July 15, 2023

Contact

Additional Information:

Saturday, July 15, 2023 - 11 am to 1 pm

Register Now

FCA Southwest Region Event