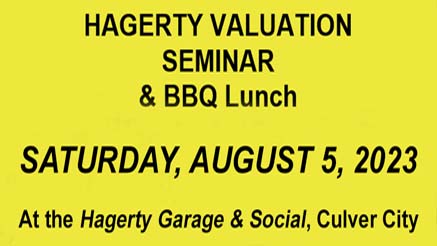 Hagerty Valuation Seminar & BBQ Lunch
LEARN ABOUT THE HAGERTY VALUATION TOOLS AND HOW THEY HAVE BEEN DESIGNED TO EMPOWER CAR ENTHUSIASTS WITH VITAL DETAILS ON A VEHICLE'S VALUE.

LEARN HOW TO TRACK A CAR COLLECTION'S PRESENT VALUE, PAST PERFORMANCE, WHERE TRENDING VALUES MAY BE HEADED IN THE FUTURE, AND EXPLORE HOW TO COMPARE A COLLECTOR CAR PORTFOLIO AGAINST OTHER FINANCIAL BENCHMARKS.

Since 1986, Hagerty has been trusted by millions to protect the antique vehicles that mean the most to them. The reason their name inspires decision-making confidence is their understanding of exactly what your classic car is worth. Hagerty has been helping every car enthusiast understand the collector car market since 2010, when the Hagerty Valuation Tools were launched.

Visit the Hagerty website for more info on the Hagerty Valuation Tools: www.hagerty.com/valuation-tools

Hagerty's team of car enthusiasts appreciates the knowledge that data unlocks, as well as the work involved interpreting that information into insights. Hagerty Valuation Tools allow you to research values from the Hagerty Price Guide and provide access to car sales data you can rely on.

Guest Speakers:

John Wiley, Manager of Valuation Analytics for Hagerty
Brandon Adrian, CEO of Classic Car Capital

Lunch catered by World Famous Gus's BBQ from South Pasadena

Event limited to 80 people. Current FCA membership required to sign up. Each member may bring one to three guests.

Cost: $20 per person

For more information, please contact Event Coordinator Jim Bindman: cool4re111@gmail.com.
Location

Hagerty Garage & Social, Culver City

Date

August 05, 2023

Contact

Additional Information:

Saturday, August 5, 2023

Register Now

FCA Southwest Region Event