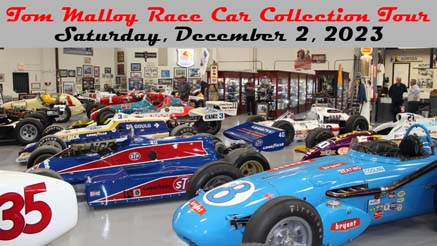 Tom Malloy Race Car Collection Tour
*** PLEASE NOTE: This event was originally scheduled for September 10, 2023, but has been rescheduled for December 2, 2023. ***

FCA-SW visits the Tom Malloy Race Car Collection. It has been almost 10 years since we visited the Malloy Collection and many new members have most likely never heard of Tom and his race car shop.

Probably one of the most complete collections of vintage race cars from the Indy 500, Can Am, LeMans and the 1950's, the collection features marques such as Miller, Offenhauser, McLaren, Ford Racing, Brabham, Jaguar, Toyota's Prototype program and more.

Located in Corona, California, it is a few minutes off the 91 freeway, about an hour's drive from Los Angeles, so allow enough time to arrive at 10 am. Tom will personally guide us through his collection explaining the history and importance of these cars, the stories alone are worth the price of admission.

Price per person $20. Children under 16 may attend for free!

After the tour there will be an informal no-host lunch at Wood Ranch for anyone who wishes to join.

Tour limited to 50 people

Event Organizer: Mark Process | dszner35mm@juno.com

Online registration will be available shortly.
Location

Corona, CA

Date

December 02, 2023

Contact

Additional Information:

Saturday, December 2, 2023, 10 am

Register Now

FCA Southwest Region Event