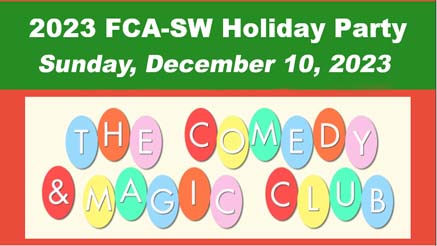 2023 FCA-SW Holiday Party
Join your FCA friends at our 2023 Holiday Party on Sunday evening, December 10th at the World Famous Comedy & Magic Club in Hermosa Beach!

We will enjoy a 5:00 pm dinner, then the fun (and laughter begins) when we will watch some HILARIOUS comedy by some famous and infamous comedians! Will there be any Ferrari jokes???

We will start taking sign ups 90 days before the event.
Strictly limited to 90 people.
Price $100 per person.

Event Organizer: Jim Bindman | cool4re111@gmail.com

We will have special Ferrari parking for 15 Ferraris!
Non Ferrari parking conveniently available across the street.
Location

The Comedy & Magic Club, Hermosa Beach

Date

December 10, 2023

Contact

Additional Information:

Sunday, December 10, 2023

Register Now

FCA Southwest Region Event