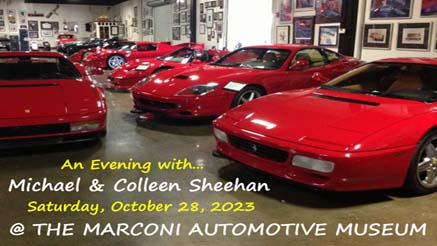 An evening with Michael & Colleen Sheehan
2023 GUEST SPEAKER SERIES #2

Saturday, October 28th @ THE MARCONI AUTOMOTIVE MUSEUM

Social Hour 5 pm | Dinner 6 pm

$99 per person* - THIS EVENT IS LIMITED TO 90 PEOPLE.
* A portion of the proceeds will be donated to the Marconi Foundation for Kids

Event Organizers:
FCA-SW President Jim Bindman: cool4re111@gmail.com
FCA-SW Director David Pham: dportho@pacbell.net

---------------------------------------------------------------------------------------------------------------------------------------------

Ferraris Online was founded 51 years ago in 1972 by Michael Sheehan.

In the early 1970s, we began our long restoration career fixing heavily crashed exotics for State Farm, USAA and Auto Club insurance, growing to be North America's largest Ferrari Restoration shop.

In the late 1970s, the boom to transform Daytona Coupes into Daytona Spyder conversions was all the rage, and we gave many coupes a haircut. That market died as interest rates climbed past 20% in 1980.

We then followed the market over to Japan where we did a massive amount of business for many years. Each time the market shifted its focus, we shifted right along with it.

Today, we have a 4,000 square foot warehouse and show cars for sale by appointment only. Thanks to the long reach of the Internet, we connect with an international clientele with all the advantages of being low-key and centered in the Mecca of California car culture.

Plus with over 51 years in the business connecting with car enthusiasts and tracking every car we come across, we have built a massive Ferrari focused database with the histories on thousands of Ferraris and a subscriber network of tens of thousands of people.

As Ferraris Online, we offer 51 years' experience as specialty broker of exotic cars, specializing in Ferraris and collections of Ferraris and other exotic cars.

Our expertise as Ferrari historians, and knowing current and historic market values and secular trends gives us an insider view of the market. We also offer over 30 years' experience as an expert witness re: exotic car values regarding Ferrari market value, market trends, appraisals, and all aspects of repair and vehicle restoration.
Location

Marconi Automotive Museum, 1302 Industrial Dr.,Tustin, CA

Date

October 28, 2023

Contact

Additional Information:

Saturday, October 28, 2023

Register Now

FCA Southwest Region Event