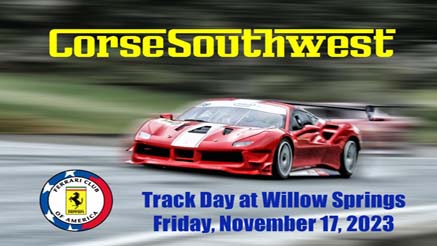 Corse Southwest - Track Day at Willow Springs
The FCA-SW Region and Fast Toys Club are excited to present CORSE SOUTHWEST (Southwest Tracks), the first track and driving instruction day offered exclusively to FCA members and Ferrari owners in the Southwest Region.

Friday, November 17 @ 9 AM - 5 PM at:
The Streets of Willow circuit at Willow Springs Raceway.

CORSE SOUTHWEST promotes a focus on education that will provide Ferrari owners an immersive instruction environment on proper driving technique.

Novice drivers will build from a solid foundation upon which they can safely explore the performance of their Ferrari, within the boundaries of each individual's personal comfort zone.

With increased peace of mind and confidence, participants will be able to extract more complete enjoyment from their Ferrari whether they are on the track, on a casual weekend getaway, or a club drive.

FCA-SW members will share in the passion and excitement that is the DNA of Ferrari's rich motorsport heritage.

The day's program includes coffee, pastries, a catered lunch, refreshments, snacks, and is open to both novice and advanced level drivers (and paid guests).

Novice drivers will carry out a complete hands-on instruction and coaching program. Advanced drivers will enjoy track time to exercise their cars and skill at their own pace on Willow Springs technical "Streets of Willow" circuit.

All track activities will be managed by Fast Toys Club with Willow Springs course staff / corner workers according to accepted practice.

Consistent to that approach, safety is priority number one. Although we strongly encourage you to bring your Ferrari, Ferraris will not be required, only FCA-SW members and Ferrari owners!

2 Classes:
Novice Drivers: $645
Advanced Drivers: $345* (with approval by the organizers)
Guests: $45

*Advanced Drivers contact event organizers for sign up instructions.

Event Organizers: Jim Hunter: jim@flat-12.com & Shawn Dutton: shawdut@yahoo.com

Online registration will be available shortly.
Location

Willow Springs Raceway, Rosamond, CA

Date

November 17, 2023

Contact

Additional Information:

Friday, November 17, 2023, 9 AM - 5 PM

Register Now

FCA Southwest Region Event